About      
Facilities
Faculty
Technical Staff
PO'S & PSO'S 
About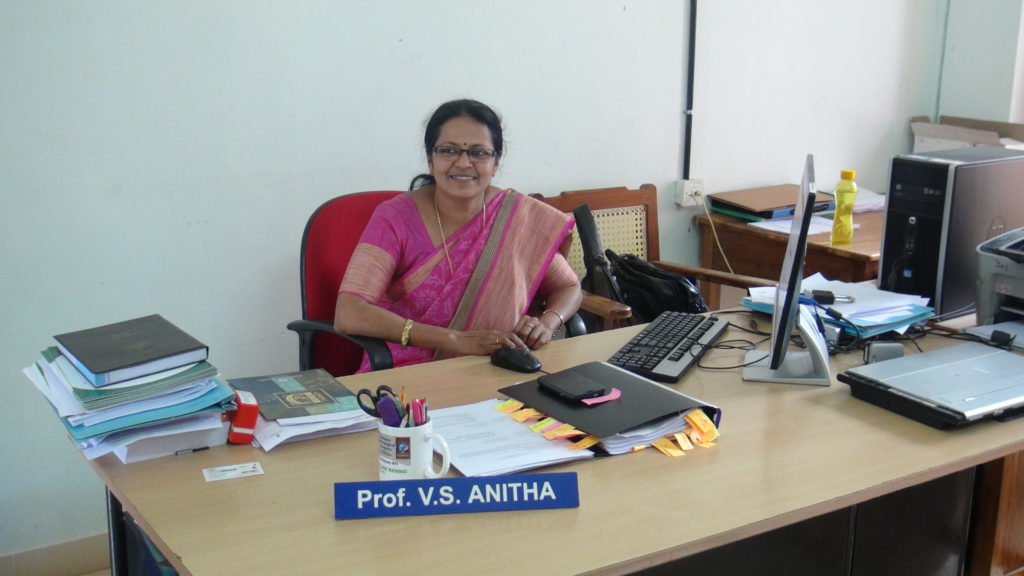 Department of Computer Science and Engineering established in the year 1999 with B Tech in CSE. For the last seventeen years, the department has been imparting a state-of-art education, training programs, workshops and research in the field of Computer science and related areas. At present B Tech degree course has the sanctioned intake of sixty. The department also offers M Tech in CSE(Networks and Security) with sanctioned intake of 18 from 2014 onwards.
The department has well experienced faculty members with post graduate and doctoral qualifications from prestigious institutions with many national and international publications. They are regularly updating their skills by attending and organizing seminars, workshops, faculty development programs in their areas of specialization. They are representing different academic bodies like Board of Studies, Academic Council and Faculty of Engineering. The department has been taking initiatives for the preparation and revision of UG and PG curriculum of APJ Abdul Kalam Technological University. Many students of this department show keen interest in participating inter and intra institute/university technical, non technical and sports events. Our alumni have reached positions of eminence in academic and research institutes, industries and also as entrepreneurs.
The department has well equipped laboratories and computing facilities maintained by dedicated, skilled and experienced supporting staff members. The department has a very efficient advisory system which helps in maintaining student-teacher-parent relationship. The faculty strength is 15 comprising of One Professor, One Associate Professor and Twelve Assistant Professors.
Dr. Anitha V S is the Head of Department of Computer Science & Engineering, Govt. Engineering College, Wayanad.
Vision of the Department
To be a centre of excellence in Computer Science and Engineering education and to mould motivated computing engineers having knowledge and skills demanded by the time.
Mission of the Department
1. To impart computing engineering education by highly qualified faculty through research and innovative teaching learning methodologies in an intellectually stimulating environment.
2. To inculcate ethical and moral values in young minds.
3. To prepare them for a lifelong learning process with professional and social commitment.
Program Educational Objectives
1. The graduate will not only be employed but also capable of pursuing research by being aware of social need in the global context.
2. The graduate will be able to adapt with change in technology by engaging in lifelong learning
3. Graduate will be able to work in challenging environments as an individual or in groups.
4. Graduates will adapt to different roles and demonstrate leadership in global working environment by respecting diversity, professionalism and ethical practices.
Facilities
Central computing Facility
The central computing facility started functioning from 2000. It serves all the computing requirements, internet, printing and other facilities to students and staff of the college. The campus LAN, supported by a semi managed wifi is controlled from CCF. CCF has sufficient facilities to support the academic and administrative tasks of the college. Systems Lab Linux Lab. 
Lab in-charge: Mr. Shabeer K P, Custodian : Mr. Abid Tharavattath. 
Multimedia lab
The Multimedia Laboratory is well equipped with state of the art facilities like high-end computers, Digital Still cameras, video cameras, LCD projectors, scanners & Laser printers, 5.1 channels surround sound systems etc., and recently three powerful graphics work stations were added to our armor.
Lab in-charge: Mrs. Smitha Karunan, Custodian : Mr. Sujith Kumar K. B.
Project Lab
It aims to provide high end computers and latest softwares to facilitate student projects as well as to nurture their research talents. The lab is equipped with 25nos of high end desktop computers and user licenses of software like visual studio etc.
Lab in-charge: Ms. Binatha C, Custodian : Mr. Sankaran Namboodri.
Network Lab
The lab is established to offer state of the art facilities for academic projects in the field of communication and network engineering. It consists of 35 numbers of high end desk top and a work station. All the machines are equipped with software's for networking experiments.
Lab in-charge: Mr. Shabeer K P, Custodian : Mrs. Rajeswary V. P. 
Hardware Lab
This Lab aims to impart skills and knowledge to students in maintaining and Trouble shooting of computer systems and to enable the students to identify various components and to assemble the system. It also provides hands-on experience on microprocessor kits. The major equipments available in the hardware lab are Microprocessor kit , Microcontroller Kit , Analog to Digital Converters , Digital to Analog Converters, Stepper motor Controller, Logic Control Interface, Multimedia Projector, Handy Cam, 2WRFT VAST outdoor Unit , Public Address System. etc,. 
Lab in-charge: Mrs. Smitha Karunan, Custodion : Mr. Sujith Kumar K. B. 
Software Lab
Objective of this lab is to bring an environment to practice programming in languages like C, Java etc., and introduce Data Structures, Programming Paradigms, Compiler Design and Internet & Web Programming with Java etc. as per syllabus to students. The major equipment in the lab are Desktop PCs, Printers, scanner, Laptops and Hubs.etc.
Lab in-charge: Mrs. Dhanyaraj P, Custodian : Jyothi T.
Department Library
The department library has a collection of 274 books, learning materials, periodicals and journals. Library also keeps reports of mini projects, main projects and seminars.
Custodian: Mr. Sankaran Namboodri
Language Lab
The language lab are designed to provide the students with a strong platform for practical training in the language. When a blended methodology of language teaching is adopted in the language lab, the human touch brought in by a physical teacher (during the classroom section of the language lab) ensures a live delivery of language concepts. These concepts are discussed and where need be demonstrated by the teacher before the students proceed to practice them individually in the computer based section of the language lab. 
Lab in-charge: Mr. Shabeer K P, Custodian : Mrs. Jyothi T
Content Generation Lab
Lab in-charge: Mrs. Smitha Karunan, Custodian : Mr. Sujith Kumar K. B. 
Virtual Classroom
Virtual Class Room is used for conducting classes from remote locations through Networks systems  and NPTEL Videos with High class facilities.  The Virtual Class Room can accommodate large number of attendees in air conditioned comfort. The audio visual facilities are digitally enhanced and designed for effective presentations with excellent auditory reception.
Lab in-charge: Mr. Shabeer K P, Custodian : Mrs. Rajeswary V. P.
High Performance Computing 
The college has a High Performance Computing facility with 4 powerful computing nodes and a dedicated GPU node.
Conference Hall
Conference hall is used for conducting department conferences, meetings and project presentations.
Technical Staff
| | | | | |
| --- | --- | --- | --- | --- |
| Name | Post | Qualification | Phone | Email ID |
| Mrs. Jyothi.T | Computer Programmer(HG) | B.Sc Physics, Diploma Comp Engg, MCA, MBA(OM), PGDHRM, Certificate in Disaster Mgt,MA Psychology(Clinical) | 9447054909 | jyothit@gecwyd.ac.in |
| Mr. Abid Tharavattath | Computer Programmer HG (NSS Programme Officer) | MSc Physics,MHRM,PGDCA,BEd, Diploma in RTM,Diploma in Hindi | 9447842699 | abidt@gecwyd.ac.in |
| Mr. Sreeraj S | Computer Programmer | B.Tech Computer Science & Engineering | 7012955059 | sreerajs@gecwyd.ac.in |
| Ms. Rajeswary VP | Instructor Grade II | M.Com,Diploma | 9496961878 | rajeswaryvp@gecwyd.ac.in |
| Mr. Sujithkumar KB | Trade Instructor Grade II | ITI | 9846317051 | sujithkumar@gecwyd.ac.in |
| Mr. Sankaran Namboodiri | Tradesman | ITI | 9495723285 | sankar@gecwyd.ac.in |
| Ms. Shabna | Trade Instructor (Adhoc) | Diploma | 9605217723 | pvshabnam.pv001@gmail.com |
| Mr. Vijesh M | Tradesman (Adhoc) | Diploma | 8086540947 | vijeshmohan.m@gmail.com |
PO\'S & PSO\'S 
Program Outcomes (POs) & Program Specific Outcomes (PSOs)
Program Outcomes – POs
PO1.  Engineering Knowledge: Apply the knowledge of Mathematics, Science, Engineering Fundamentals and Computing Science for the solution of complex engineering problems.
PO2.  Problem Analysis: Identify, formulate, review research literature and analyse complex engineering problems reaching substantiated conclusions using first principles of Mathematics, Natural Science and Engineering Sciences.
PO3.  Design/Development of Solutions: Design computer system components and services that meets public health and safety, cultural, societal, environmental and national standards.
PO4.  Conduct Investigations of Complex Problems: Use research based knowledge and research based methods including design of algorithms, analysis and interpretation of data, and synthesis of information to provide valid conclusions.
PO5.  Modern tool usage: Create, select and apply appropriate techniques, resources & modern engineering and IT tools (including prediction and modelling) to complex computing activities with an understanding of limitations.
PO6.  The Engineer and Society: Apply reasoning informed by computing knowledge to assess societal, health safety, legal and cultural issues and consequent responsibilities relevant to the professional engineering practice.
PO7.  Environment and Sustainability: Understand the importance of Computer Engineering solutions in societal and environmental context, and demonstrate the knowledge of and need for sustainable development.
PO8.  Ethics: Apply and commit to professional ethics and responsibilities and norms of the engineering practice.
PO9.  Individual and Team Work: Function effectively as an individual or as a member or leader in diverse teams and in multidisciplinary settings.
PO10.  Communication: Communicate effectively on the technical aspects of any complex engineering activities, comprehend effectively any communication received in such contexts, document engineering knowledge in standard forms or as effective presentations, give and receive clear instructions.
PO11.  Project Management and Finance: Understand the engineering & management principles and apply these to one's own work as a member or leader in a team to manage software projects setup in multidisciplinary environments.
PO12.  Life-long learning: Recognize the need for and have the preparation and ability to engage in independent and life-long learning in the broadest context of changes in the field of Computer Science and Engineering.
Program Specific Outcomes (PSOs)
PSO1.  Engineer and entrepreneurship: Conceive and develop innovative products, process or services suitable for start-up ventures.
PSO2.  Engineer in global context: Work in a global context, technical as well as social, adhering to societal needs and professional practice.